Share on Facebook
A turtleneck is a winter staple in every woman's wardrobe - while it keeps you warm, it also allows you to create a number of different, interesting outfits. Take a look at how you can layer and style a basic turtleneck this fall and winter.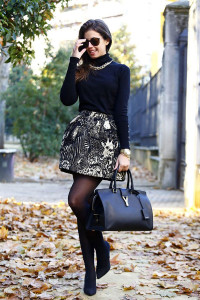 A solid #turtleneck paired with a great pair of skinny #jeans forms a great and simple basis for an interesting #winter #coat.
A sheer, light-colored or patterned #turtleneck can easily elevate an all-black or an all-white #outfit more trendy. Layer a white #turtleneck beneath a black jacket and pair it with black pants and your everyday #winter #outfit is complete. A #turtleneck looks equally stylish when paired with a leather #jacket or a denim one.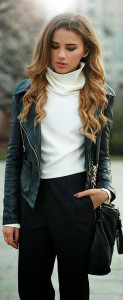 A simple and slim #turtleneck is a great way to show off your colorful #skirt or pants as it will not steal the attention and make the other piece stand out properly. You can even wear it with an #evening skirt, which is a great way to elevate a turtleneck and create a unique #outfit. A turtleneck also looks very interesting when worn underneath a #dress with a plunging neckline. You can complete such an #outfit with a pair of simple #boots.