Share on Facebook
White jeans can be tricky to wear - they are not flattering at times and you have to be careful where you sit. But, once you find a pair that fits you perfectly, you will wear them whenever and wherever you can. And, here is how to style them and always look stylish and dressed up.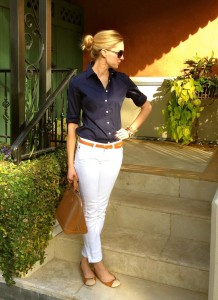 One of the easiest and most #youthful #summer #outfits includes white #jeans, a striped t-shirt, light wash denim #jacket and a bright clutch. Just add a pair of nice flats and you perfect white jeans #outfit is complete.
If you like monochrome #outfits, feel free to go all white. Opt for a white tank top, a white #blazer and white or silver sandals. Just remember that, when it comes to monochrome #outfits, the most important thing is to choose different textures to make such an #outfit more interesting.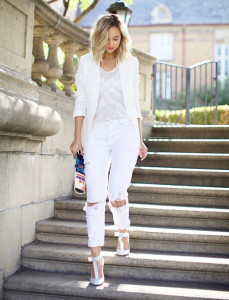 Polka dots and white #jeans make an amazing #summer #outfit. Moreover, if you add polka dot flats, you will get a fun and youthful #outfit.
If you need a more dressed-up #outfit, just pair your white #jeans white a shirt, high heels and a matching patent #handbag. You can choose to wear a white and blue combination, which is perfect solution for a summer night out.