Share on Facebook
Acrylic nails come in a variety of colors and designs and that is why they can change the look of your hands in an instant. However, no matter how pretty they are, they take the toll on the health of the nail bed. Many products involved in acrylic nail application damage the underlying nail and that is why, when you want to return to natural nails, you can expect them to be thin, brittle and splitting. If you decide that you want to go back to the basics, here is how to care for your nails properly and improve their health.

First of all, you need to take off the acrylic or gel nail. If you decide to do that at home, use pure acetone for that. But, since acetone is very drying, use it wisely. However, to minimize additional damage, opt for professional removal. After that, your nail bed will probably look jagged and dry.
To return to #healthy #nails, you might need weekly manicures. This will help stimulate the circulation of the nail bed and promote its growth. If you prefer at-home manicures, prepare a nail bath, allow your fingers to soak for about 10 minutes and finish with a stimulating massage. During such a massage, apply olive oil to promote healthy nail grow.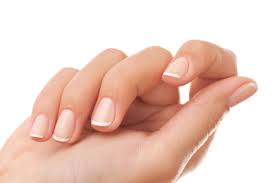 Keep your nails trimmed until the body rebuilds the damaged tissue. Also, make use of the strengthening properties of some nail care base coats to strengthen the nail bed. And, although you may paint your nails as you wish, the less exposure to chemicals, the faster they will rebuild their strength, so try to avoid color.