Share on Facebook
Makeup can easily make you look your best and like a more youthful version of yourself, you just need to know a few tricks. If you choose the right makeup and know how to make it work for you, you will look younger in minutes. Makeup can easily erase years off your face, and here are some strategies to help you do that.
As you get older, your #skin gets more pallid, so using a #foundation shade that exactly matches your skin tone can make you look pasty. Choose a lightly warmer tone to put life back into your skin. Or, mix a foundation that matches your complexion with a foundation that is one shade darker.
Keep your #lips dewy and fresh with a lip balm or lip gloss. Replace dark lipsticks with bright ones to add instant youth. A neutral rose #lipstick will make you look brighter and younger. If your natural lip line has started to fade, trace it with a clear lip liner to prevent your lipstick from "bleeding".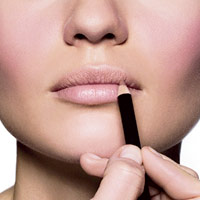 A warm toned #blush will instantly make you look fresh and much younger. Again, a neutral rose is your best friend. It suits all skin tones and adds a youthful glow. Try using a cream blush and apply it directly on your cheek bones when you smile. Apply it correctly – this will take years off your face.