Share on Facebook
To give your furniture an elegant finish and transform even the most drab piece into something amazing, all you need is a lacy pattern. A piece of lace serves as a stencil for the spray-painted pattern, you just need to find a piece large enough to cover the entire surface you plan to finish this way. The lace effect looks equally great on both original finishes and repainted pieces.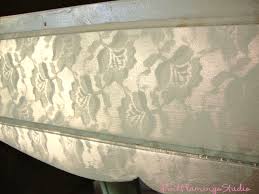 First, clean the area you plan to treat with some kind of a cleaner, wipe it off and allow it to dry. In order to protect your floor, cover it with a plastic trap. Also, you need to cover all the areas on the piece of #furniture you want to protect from the paint. Do it with a masking tape or newspaper.
Make sure that you have enough lace for all the pieces you want to treat, because you can use the lace only once. Place the lace over the desired area, shake the spray well and spray on one coat. Once the first coat has dried, you can add a second coat for a darker effect. Let the paint dry, lift the lace and reveal your wonderful lacy design.