Share on Facebook
When it comes to makeup, this season is all about eyes. Makeup artists recommend worm and peaceful colors that will make you look approachable and friendly
.
However, by using a bright lipstick in combination with "nude" eyes, you can either make a statement or turn you office day look into a dramatic night look.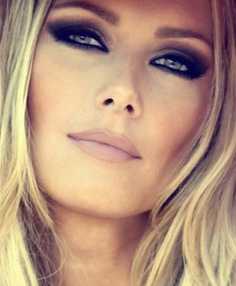 Although all earthly shades are popular both for lipsticks and eyeshadows, you have to remember the old rule - blonds should use calmer and brighter tones, while brunettes can chose some darker shades of lipstick.
Brown eye shadow and lipstick in berry shades
All shades of brown eye shadow and berry lipstick are popular and you can play with them until you find the one that goes best with your skin tone. The same rule applies here - brighter shades for blondes and darker shades for brunettes.
Green eye shadow
If you decide to apply green eye shadow, than the rest of your makeup should be toned down, since this green eye shadow is prominent by itself. Depending on your taste and the occasion, you can choose any shades of green - from mint green to combination of green and blue.
Brown smoky eyes
This kind of makeup gives your appearance a touch of grace and serenity. It is appropriate for all kind of day events - from going to work to some family happenings. If you want to boost it up, you can put a red lipstick, which is also very popular. Even with a red lipstick, this look is appropriate for day, or even for night, if you don't like heavy makeup when you go out. However, you can add eyeliner to this look when you go out, just to be a bit more prominent.
Nude lips
Brighter or darker shade, the color nude is very popular this season. Since it is neutral and very modest, you can play with the color of your eye shadow however you like.
Silver eye shadow
Silver eye shadow is very popular this season; it looks seducing and it goes with every eye color and skin tone. You can use red or icy light pink lipstick with silver eye shadow - they go great together.