Share on Facebook
Many women avoid to wear overalls because they think that this clothing item is not stylish at all. However, that's not truth - you just need to know how to pick the right kind and how to pair them with the proper accessories. Take a look and learn how to look trendy and stylish in your overalls this fall.

You should stop associating overalls with blue #denim and being afraid of wearing them because you think that you would look frumpy. All you need to do in order to look #chic in your overalls is  change the color and look for white #denim overalls. This color will help you look fresh and allow you to add different kinds of #accessories.
Overalls have a bad reputation because they are usually loose and they can make you look as if you have no shape. So, try a pair of fitted overalls and add a belt to emphasize your waist even more.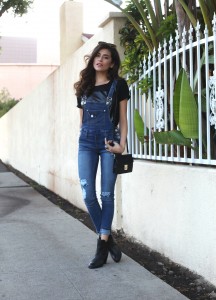 To make your overalls look trendy, feel free to mix and match different styles. If you are still unsatisfied with your outfit, try adding statement accessories - a statement necklace, a thick coat or a blazer and an interesting bag should do the trick.