Share on Facebook
Chances are every woman has a black blazer in her closet. It's perfect for formal and not so formal events, it can be worn with an elegant skirt or a pair of jeans, and there is always a way to wear a black blazer in a new and interesting way.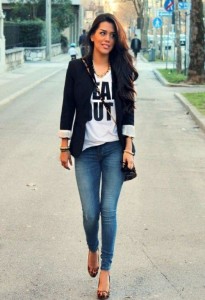 A black blazer looks especially interesting and modern when worn over a graphic t-shirt and with wide-leg pants - this is an outfit that looks casual yet polished and it's a perfect solution for weekends or when you want to look relaxed and #stylish at the same time.
Your favorite black #blazer can be paired with a black t-shirt and black leather pants to create an #outfit that women who prefer all-black ensembles and like to look cool and chick. Alternatively, you can opt for a white t-shirt and statement jewellery if you prefer brighter #clothes.

A black #blazer is also perfect for spring and summer days when you want to make an outfit consisting of shorts and a simple t-shirt and a bit more interesting and edgy.
A great pair of boyfriend #jeans can be paired with a bright top and a simple fitted #blazer to create a modern tomboy #look. This #outfit can look even more dynamic if you add a pair black oxfords and roll up the sleeves.