Share on Facebook
Many people agree that mangoes are one of the most delicious fruits. However, not all of them are aware of their numerous health benefits. Among other things, mango is a great natural moisturizer and helps you get and maintain healthy and radiant skin. However, the benefits or mango are not limited to your skin only - it promotes hair growth and a healthy scalp which leads to healthy and shiny hair. Let's take a look at how mango can help you get amazing looking hair.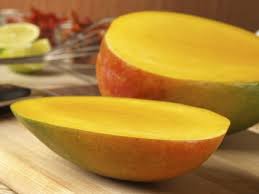 To prepare a #homemade #conditioner, mix some mango pulp with a teaspoon of yogurt and two egg yolks. Apply this mixture to your hair and leave it for 30 minutes – this will make your hair incredibly soft.
If you have dandruff and don't know how to get rid of it, vitamin A, which mango is packed with, will help you win that battle. Apply some mango seed butter to your #hair for #strength and shine. Another way to make a homemade anti-dandruff product is to mix mango seed butter with some mustard oil and leave it out the sun for few days. This mixture will help you control hair loss, dandruff and early graying.