Share on Facebook
A blazer is a staple is every woman's wardrobe, and a white blazer is particularly interesting, elegant and easy to style. Regardless of the season, a white blazer can easily update your look and it allows you to create a number of different outfits. Take a look how to do that!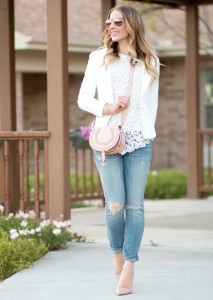 If you like monochrome #outfits, one of the ways to incorporate your white #blazer into such an outfit is to pair it with white floor-length pants and white #shirt. You can also wear it with a white #jumpsuit.
If you want a bit more colorful #outfit, you can wear a white #blazer with a black #jumpsuit or create a perfect #outfit by pairing it with dark #jeans and #chambray #shirt. You can even try incorporating it into a double denim #outfit, which looks very #stylish and #youthful.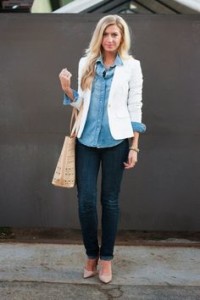 Also, such a blazer looks very daring and #youthful when paired with #casual ripped #jeans, a simple shirt and a nice pair of flats or heels.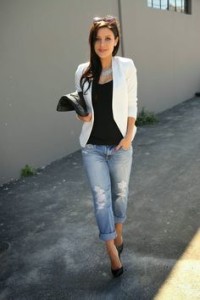 A white #blazer looks especially #elegant when paired with ponited-toe pumps, whether you decide to wear a simple pair of #jeans or a bit more sophisticated trousers.