Share on Facebook
Putting oils on your face might seem wrong to you, but you are not right - facial oils are probably one of the most important steps in anyone's skin care routine. In order to get the best out of them, you need to realize that not all facial oils are the same. But, before you start looking for a type that is right for your skin, take a look at why you should use them at all.
Facial oils can help reduce your wrinkles and minimize any enlarged pores. Wrinkles and sunspots come as a result of too much exposure to unprotected ultraviolet light, and since certain types of facial oils contain antioxidants, they can help you reduce sun damage, treat dry #skin and prevent premature ageing. Furthermore, if you want to make your large pores appear small, opt for facial oils rich in macadamia and jojoba that pull out fats from the pores thus making them less noticeable.
If you have dry and flaky #skin and rough cheeks, facial oils really need to be an integral part of your everyday #skin care routine. They can moisturize your #skin much more and better that different creams, which is very important for dry #skin. Coconut oil is the best solution, and all you need is a pea-size amount of it.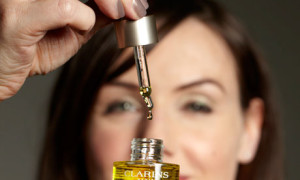 Facial oils are amazing for irritated #skin; their anti-inflammatory properties help calm down rashes very fast. Argan oils, for example, are the best option for irritations and reducing redness.